Denmark is lovely in the summer.  The months between June and August can actually be quite hot, so when the weather is at its best, Danes flock to the beach.   Amager Beach Park (Amager Strandpark) has been a popular destination for Copenhageners since 1934.  In 2005 a 2 km long artificial island was added and this has extended the beach park and made it even more popular than before.  There is now 4.6 km of sandy beach for your summer enjoyment.
The original beach is separated from the new by a lagoon with low-water areas for children, with access via three bridges. The beach park offers a wide sandy beach if you simply want to enjoy the sun, but there are areas to play ball and have a picnic.  There is also a promenade and a small marina.
There are many events at the beach park such as open-air rock concerts and sports events. In the evenings, people barbeque and have a beer or two. It has become a popular place for fitness training as well for runners, swimmers and kayakers who come to have a whale of a time.
The park is easily accessible by Metro. The M2 line of Copenhagen Metro will take you to either Øresund station, Femøren station or Amager Strand Station. Amager Beach Park can be reached by bicycle in about 15 minutes from the city centre. 
Amager Beach Park's Address:
Amager Strandvej 110
2300 København S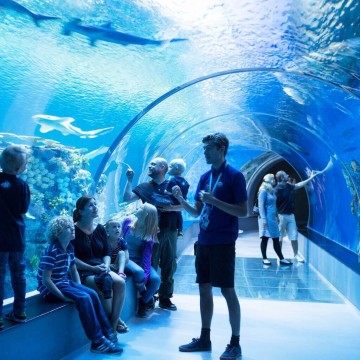 The Blue Planet
Take a memorable trip to Denmark's largest aquarium, The Blue Planet. The building itself is a work of art. Inside you will find any and everything moving and gliding in the clear waters above and beneath your feet.