Ismageriet - Delicious Ice Cream!
I scream, you scream, we all scream for ice cream!
Feel like eating freshly made, melt-in-your-mouth, delicious ice cream served with a smile?  Then Ismageriet on Amager may be just the place for you!  
Situated in a residential area on Amager, Ismageriet may seem far away from central Copenhagen. For those who claim that this is the best ice cream in Copenhagen, the distant is completely irrelevant!  Ismageriet serves seasonal ice cream with local, premium ingredients freshly made throughout the day at the shop. Though the flavours change frequently, you are always able to choose from milk-based ice cream, low-fat yoghurt ice cream or lactose-free sorbet.  All ice creams are gelatin and egg-free. For detailed information about the products, see the signs posted inside.  The retro design which features mint green tiles, dark wooden details, and the staffs' traditional mint green uniforms will be enough to bring a smile to your face.
Prices at Ismageriet can only be described as reasonable. Two scoops of freshly made ice cream in a cone or cup will set you back only 34 DKK. And these are not tiny scoops! If you are more inclined towards a medium-sized soft ice/soft serve, the price is just 25 DKK.
And hey! Ismageriet is just a short 15-minute walk from Danhostel Copenhagen Amager – meaning that there really is no excuse for not eating all the ice cream you wish during your stay!
Opening hours
Sunday-Friday: 11.00-22:00
Saturday: 10:00-22:00
Ismageriet
Kongelundsvej 116
2300 Copenhagen S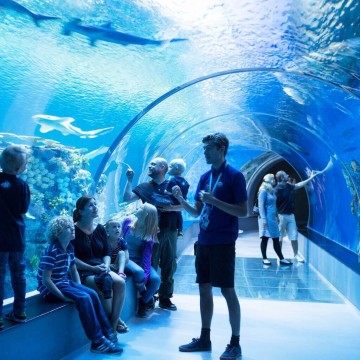 The Blue Planet
Take a memorable trip to Denmark's largest aquarium, The Blue Planet. The building itself is a work of art. Inside you will find any and everything moving and gliding in the clear waters above and beneath your feet.