Meals and Use of Guest Kitchens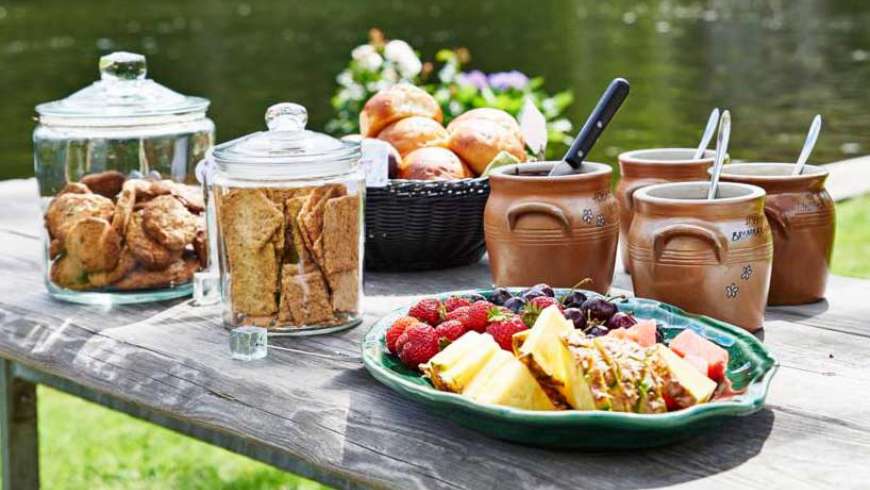 Breakfast
All Danhostels serve healthy, delicious breakfast. Danhostel has a minimum standard for breakfast which includes different types of bread, butter, yoghurt, milk products, cornflakes, oatmeal, muesli, cheese, jam, marmalade, honey, cold cuts, milk, juice, coffee and tea. At most hostels, breakfast is served as a buffet and must be ordered the evening before. The price of breakfast is approximately 45–70 Danish kroner per person. Many hostels offer families a special breakfast deal. Half-price breakfast and dinner deals are available for children under 12 years (this does not apply to groups).
Dinner
Some Danhostels serve dinner, so check our website to see which hostels extend this offer. Dinner, which is served at a set time each day, should be ordered in the morning. Dinner is provided in some cases if the minimum order is requested. Danhostels can recommend a reasonably priced restaurant nearby if they do not serve dinner. 
Guest Kitchens
All Danhostels have guest kitchens with an oven, fridge, coffee machine, pots, pans and tableware. Some Danhostels sell disposable tableware or may charge a deposit for the loan of such. Guest kitchens are for the use of single travellers and families, but not groups.