UNESCO World Heritage in Denmark
See all the beautifull sites
UNESCO World Heritage Sites in Denmark
As of 2016, there are seven locations in Denmark which are on UNESCO's World Heritage List. There are one or more Danhostels at every location, so it is easy to visit all seven sites within a week. Use our smart route planning to devise your very own UNESCO adventure. Our 7 UNESCO World Heritage sites are listed below.
1 – WADDEN SEA NATIONAL PARK (VADEHAVET). Learn more here.
Experience Wadden Sea National Park with dunes, tides, marshlands, mudflats, nature and game reserves, plus unique wildlife. In addition to being a UNESCO World Heritage site, this is Denmark's largest national park and one of the world's most important wetlands. Experience the variety of birds, especially the phenomena called Black Sun where millions of starlings murmurate. Go on an oyster or seal safari, or take a memorable trip to the islands of Fanø, Manø and Rømø. Danhostel Ribe, Danhostel Esbjerg, Danhostel Romø and Danhostel Tønder are all just minutes from the Wadden Sea National Park.
2 – STEVNS CLIFFS (STEVNS KLINT) Learn more here.
Stevns Cliffs are spectacular white limestone cliffs with fantastic views. Here millions of years of history and beautiful scenery combine to capture the imagination. Visit Højerup Church which sits securely at the edge of the cliffs. Enjoy the view of the sea from the church balcony or climb the steep stairway down to the cliffs and find beautiful black, rounded flint stones on the beach. Search between limestone and chalk and discover the possible cause of the dinosaur extinction 65 million years ago. Scientists still discuss whether the elevated level of CO2 in the air was as a result of a meteor or volcanoes. Stay at Danhostel Store Heddinge when you visit Stevns Cliffs. It is just 25 minutes away by bicycle. You might also be interested in visiting Stevnsfortet (Stevns Fort).
3 – KRONBORG CASTLE. Learn more here.
Kronborg Castle, located in the Sound between Denmark and Sweden, is a beautiful renaissance castle built in 1574. The Castle attracts over 250,000 visitors annually and was named a UNESCO World Heritage Site in 2000. One of Shakespeare's play, Hamlet, has made Kronborg Castle world famous and every year, there are live performances of Hamlet, plus various festivals for the whole family. Holger the Dane (Holger Danske), waits patiently to greet you in the dark crypts and catacombs below. Danhostel Helsingør, located right across the Sound, is a stone's throw away from this magnificent location.
4 – ROSKILDE CATHEDRAL. Learn more here.
Roskilde Cathedral was the first Gothic building in Denmark and was added to UNESCO's World Heritage List in 1995. Mingle with royalty when you visit this enormous church with endless details and beautiful royal tombs. Thirty-eight kings and queens are buried in the Cathedral, which has been used for centuries as a resting place for Danish monarchs and their families. A beautiful walk through the park from the Cathedral to the harbour takes you to Danhostel Roskilde, located in Roskilde harbour. Right next to the hostel is the Viking Ship Museum which is also worth a visit.
5 - JELLING MONUMENTS. Learn more here.
The Jelling Monuments, dubbed Denmark's birth certificate indicate that King Harald Bluetooth, in year 965, Christianised the Danes and united Denmark and Norway. In 1994, UNESCO chose this site - which includes the stones, mounds and the wooden church - as part of their exclusive list. The Jelling Monuments are considered one of the most prestigious Viking treasures in all of Europe. While at the monuments, visit - free of charge - Kongernes Jelling Exhibition Centre with exhibitions. Shop by the visitors' shop and purchase some souvenirs. For accommodation, choose to stay at the child-friendly Danhostel Givskud Zoo and visit the Zoo across the street, or stay at Danhostel Vejle which is also close by.
6 - PAR FORCE HUNTING LANDSCAPE IN NORTH ZEALAND. Learn more here.
Inspired by French King, Louis XIV's par force hunting, Danish King, Christian V was moved to initiate his own royal hunting grounds in Denmark. He applied the French Baroque values which transformed the landscape and in 2015, UNESCO added the hunting grounds to their World Heritage list. The par force hunting landscape lies in the backyard of Danhostel Hillerød. This hostel is an ideal base for trips in North Zealand.
7 – CHRISTIANSFELD. Learn more here.
Christiansfeld is most likely one of the best-preserved Moravian settlements. The area has undergone an extensive renovation to highlight the various historical buildings and streets. While walking through the town, you will understand why UNESCO selected the entire town - from the gingerbread shops to the graveyard - and not just one site or building. Christiansfeld is situated between Kolding and Haderslev, and both Danhostel Kolding and Danhostel Haderslev are obvious choices for accommodation.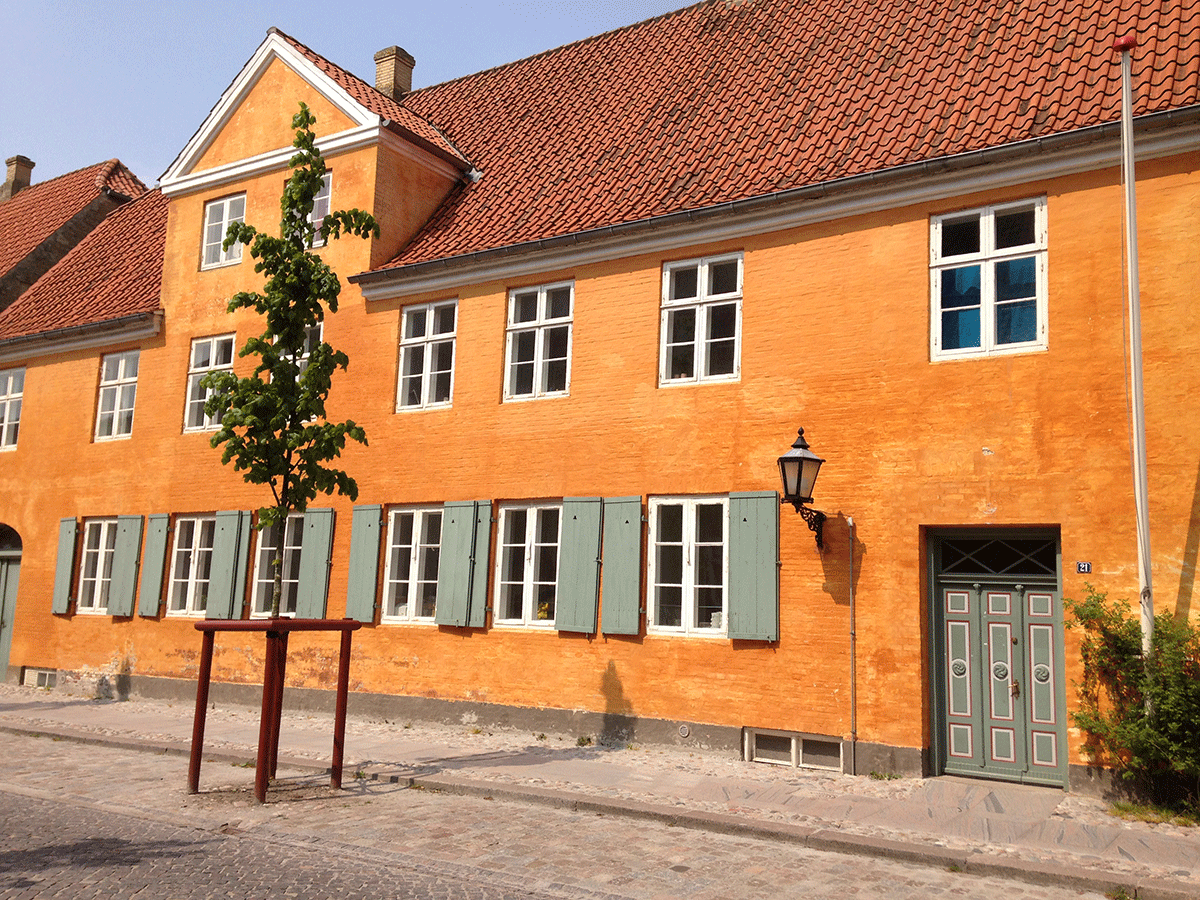 SUGGESTED ROUTES FROM ZEALAND AND JUTLAND

Here are our proposed routes which will take you to the various UNESCO World Heritage Sites in Denmark.

Remember to use our route planner to book your accommodation during your trip.

Route from Copenhagen and Surrounding Areas

Day 1: Start by visiting Kronborg Castle, then explore the par force hunting grounds in North Zealand. Stay at Danhostel Hillerød or spend the night in Roskilde at Danhostel Roskilde.

Day 2: Visit Roskilde Cathedral, then take a trip to Stevns Cliffs. Stay at Danhostel Store Heddinge. If you need additional activities after visiting the cathedral and the cliffs, visit Faxe Limestone Quarry and stay at Danhostel Faxe.

Day 3: Your first stop on Jutland is the Jelling Monuments. Afterwards, take a trip to Christiansted Moravian Settlement. While there, visit the gingerbread shops which sell cakes and other treats. Spend the night at Danhostel Kolding or Danhostel Haderslev.

Day 4: The Wadden Sea National Park has much to offer, so it will take time to see and tour everything. Close by are Danhostels Ribe, Esbjerg, Rømø and Tønder.

If you have more time to spare, visit Givskud Zoo or LEGOLAND. Spend the night at either Danhostel Givskud Zoo or Danhostel Vejle.


Route from Aarhus and Surrounding Areas.

Day 1: Visit the Jelling Monuments, then take a trip to Christiansted. Afterwards, spend the night at Danhostel Kolding or Danhostel Haderslev.

Day 2: The Wadden Sea National Park has much to offer. Book accommodation at Danhostels Ribe, Esbjerg, Rømø or Tønder.

Day 3: First stop on Zealand should be Stevns Cliffs. Danhostel Store Heddinge is close by. For an additional exciting adventure, take a trip to Copenhagen and stay at Danhostel Copenhagen City (close to everything), Danhostel Copenhagen Amager (close to the airport) or Danhostel Copenhagen Bellahøj (a relaxed setting in a peaceful environment).

Day 4: See Roskilde Cathedral and the area once used for Par Force Hunting in North Zealand. Stay at Danhostel Hillerød which is close by, or continue to Elsinore to Kronborg Castle. Stay at Danhostel Helsingør.


Route from Zealand

Day 1: Take a trip to Stevns Cliffs and Roskilde Cathedral. Stay at Danhostel Store Heddinge or Danhostel Roskilde located in Roskilde harbour.

Day 2: Visit Par Force Hunting in North Zealand and Kronborg Castle. For accommodation, stay at Danhostel Helsingør. You could also spend an extra day on the island of Zealand. Make sure to include a shopping or sight-seeing trip to Copenhagen.


Route from Jutland

Day 1: Visit Christiansfeld Moravian Settlement and the Jelling Monuments. Stay at Danhostel Vejle Danhostel or Danhostel Givskud Zoo.

Day 2: Visit the Wadden Sea National Park and experience Sort Sol - where millions of birds put on a show as they change patterns while flying - or go on a seal or oyster safari. Book accommodation at Danhostel Ribe, Danhostel Rømø, Danhostel Tønder or Danhostel Esbjerg.

Day 3: Continue your trip to Wadden Sea National Park or sail to the islands of Rømø, Fanø or Manø. You could also visit Ribe Cathedral. Climb to the tower of the cathedral and experience the stunning views of the area.
There are no results in the search you have made. Try another search.