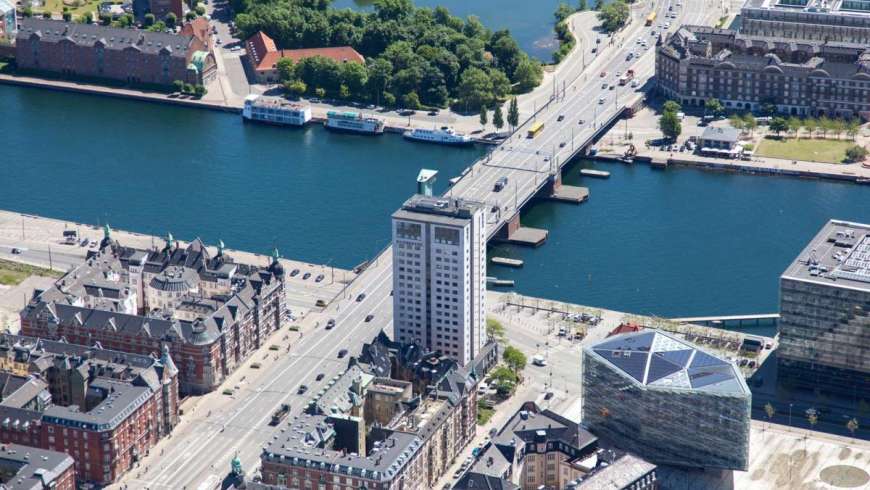 Our City hostels have rooms for groups of all sizes.
Copenhagen
Danhostel Copenhagen City, our largest hostel, has 192 rooms for groups who want to experience all the excitement in the City. This is our five-star hostel, which offers private bathrooms in every room, great views from each window, free Wi-Fi, 24-hour check-in, a TV lounge, bar, café, laundry facilities, bicycle rental, free guided tours of Copenhagen and other amenities. Tivoli, Ny Carlsberg Glyptotek Art Museum, The National Museum, Strøget (the walking street) and Central Station are within walking distance of the hostel. Many other attractions including Christiania are within a few minutes of the hostel.
With newly renovated handicap-friendly rooms, Danhostel Copenhagen Amager is the perfect place for groups. There are 156 rooms, each with a TV.  Most rooms have private bathrooms and the amenities include free parking, free Wi-Fi, a cosy TV lounge, laundry facilities, and a cafe.  You will be close to the beautiful area of Amagerfælled, have access to all types of public transport, within walking distance of the large shopping mall, Fields, and near the exhibition and conference venue, Bella Center.
Danhostel Copenhagen Bellahøj offers peaceful and tranquil surroundings away from the hustle and bustle of the busy city.  It is located just a 15-minute bus ride from the attractions in Copenhagen.  There are 39 rooms with private and shared toilets. Take advantage of free parking with surveillance, free Wi-Fi, TV lounge, bicycle rental and laundry facilities.  For travellers on foot, the bus stop is just 200 m from the hostel.  The area is known for its many sports and swim facilities, so find out more when you check in.
Aarhus
Danhostel Aarhus, located in "The City of Smiles," provides 35 rooms with private and shared bathroom, plus a TV in each room.  When you stay here, you are close to Riis Forest, the beach, Den Permanente, and the city centre.  The amenities include free Wi-Fi, free parking, conference rooms and laundry facilities.  Aarhus offers festivals, museums, theatres, exciting nightlife, amusement parks and so much more.  Check out the fantastic architecture such as ARoS Art Museum with the rainbow panorama, Dokk1 and the Iceberg.
Danhostel Aarhus City, is a brand new hostel, that lies in the very heart of Aarhus with famous attractions such as "The Old Town", "ARoS", "The Latin Quarter", and "DOKK1" within a short walking distance. Also, you are just a minute away from Aarhus main train station and public transport. All 35 rooms are spacious with great city views, luxury box mattresses all equipped with their own reading lamp and power outlet. A delicious buffet breakfast is served every morning; with homemade bread and hot coffee and tea. The amenities include 24-hour check-in, Mobile Key, free WiFi, parking, guest kitchen, bike-rental, free city maps, and a cozy rooftop café where you can enjoy the city view and sit in the sun on one of the green terraces. 
Odense
Danhostel Odense City, our 3-star hostel, is situated next door to Odense Castle's royal gardens and Odense Central Station.  There are 38 comfortable rooms, each with a private bathroom and a TV.  The amenities include 24-hour check-in, Wi-Fi throughout the hostel, a cosy TV lounge, luggage lockers, laundry facilities, a guest kitchen and a lift.  Close by are various cafes, shops, restaurants and cinemas. A swimming pool is just 10 minutes away.  Danhostel Odense City is the perfect base for fairytale trips around Odense and the island of Funen. 
While in Odense, another option is Danhostel Odense Kragsbjerggaard, located about 30 minutes or 2 km from Odense City Centre.  This is a country hostel with a city feel.  This beautiful manor house which dates back to 1747 has everything you need to enjoy a relaxing evening after a busy day in the city.  Danhostel Odense Kragsbjerggaard is a 5-star facility with 32 rooms and offers free parking and free Wi-Fi throughout the hostel.  Many attractions can be reached on foot from the hostel. Visit, for example, Odense Zoo, Hans Christian Andersen's House and Møntergården. If you want to reach the hostel or other attractions via public transport, there is a bus stop just 200 m from the hostel.
Learn more about group bookings here.